Series 1 and Series 2 of The Mighty Boosh were released on dvd in Japan in April & May 2010, and both sets of releases helped widen Boosh exposure in Japan and will also no doubt become valuable rarities for western collectors of Boosh memorabilia!
Friend of The Velvet Onion 'brainshortcake', researched just how big the cult of Booshdom really is in the far east for a special report. How did it all begin? Is there really an audience for the madcap adventures of Howard Moon and Vince Noir on the other side of the world in a vastly different culture? Find out below…
‾‾‾‾‾‾‾‾‾‾‾‾‾‾‾‾‾‾‾‾‾‾‾‾‾‾‾‾‾‾‾‾‾‾‾‾‾‾‾‾‾‾‾‾‾‾‾
Mighty Boosh no Sekai e – To The World Of The Mighty Boosh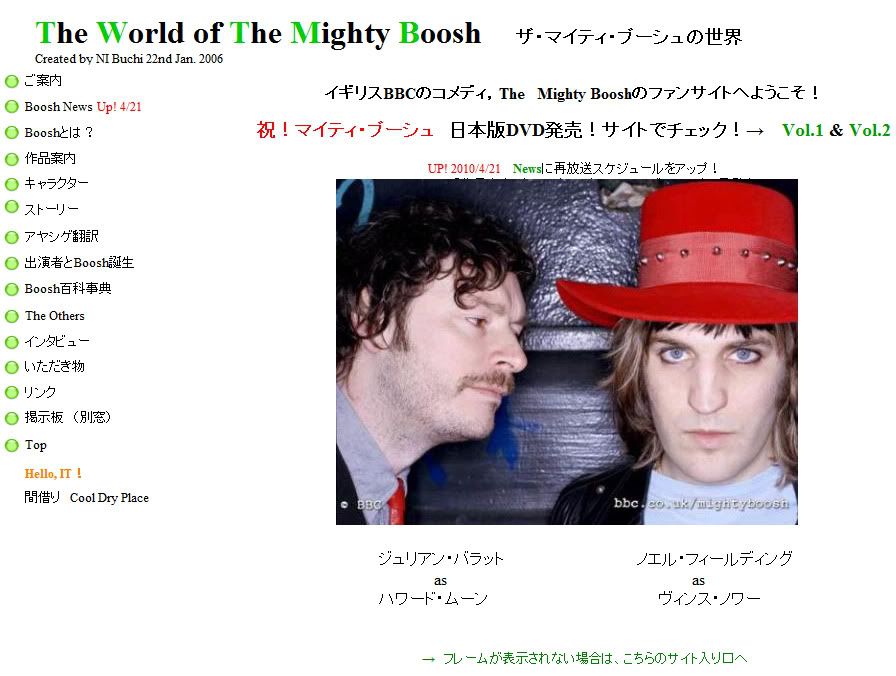 The history of The Mighty Boosh in Japan begins with a website. Since January of 2006, NI Buchi has been providing biographies, glossaries, story guides, and keeping Japanese Boosh fans connected with the latest information about The Mighty Boosh in Japan and abroad. She first heard of the Boosh from a friend, who had seen Tundra on a trip to England in 2004. Fascinated by the story and description of the visuals, she searched out the show and fell in love, importing the radio series and DVDs. In January of 2006 she opened the only Japanese Mighty Boosh fansite, The World of The Mighty Boosh, and has been updating it regularly ever since.
Hi, Kochira IT Ka! – Hi, This is the IT Department!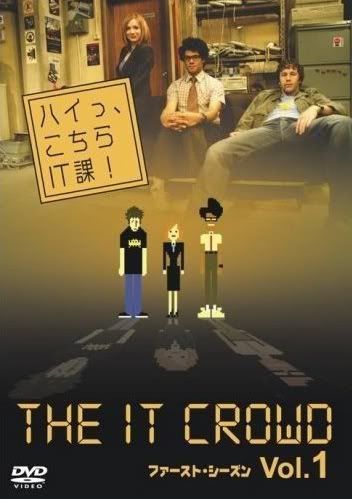 In 2005, digital satellite channel WOWOW began a block of programming called "Comedy UK!", airing such programs as The Office, Little Britain, Extras, Peep Show, and The IT Crowd. Series one of The IT Crowd broadcasted in January of 2007, with series two following in October of 2008, both airing after midnight. Only series one has been released in Japan, split into two discs and available in English with Japanese subtitles.
Originally. Little Britain, The IT Crowd, and The Mighty Boosh were promoted under the label Comedique, which focused on British comedy. However, after the release of The IT Crowd, no updates were given on the status of The Mighty Boosh. The website is now gone, however the blog established to promote Little Britain is still up, and did occasionally mention The IT Crowd and The Mighty Boosh. In an entry from March of 2009, The Mighty Boosh was still being promoted as an upcoming release, however that would not come to be until 2010. Comedique's parent company, Culture Publishers, has had some restructuring over the years, which may have contributed to The Mighty Boosh's release being delayed.
Robots In Disguise Visit Japan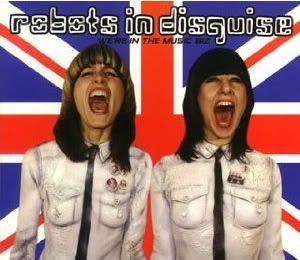 In January of 2009, Robots in Disguise's third album We're In The Music Biz was released in Japan. Out on Tearbridge Productions, this version of the album features La Nuit, You Really Got Me, Turn It Up, and two remixes of The Tears as bonus tracks, as well as the music videos for We're In The Music Biz and Turn It Up as CD-Extra content. In March of that year, Dee, Sue, and Genma performed and DJed in Tokyo and Yokohama, including an appearance as part of the British Anthems series. Produced by Creative Man Productions, which is also responsible for such events as the yearly Summer Sonic festival, British Anthems pairs UK acts with Japanese artists of a similar vein twice a year. Pictures and commentary from Tearbridge staff during the band's time in Japan can be seen here, here, and here under the "robosaku" label and two live recordings are available on Genma's myspace.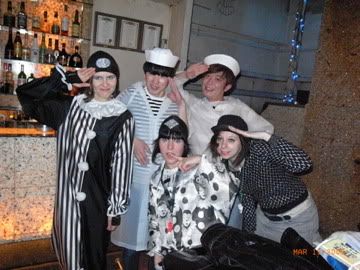 Readers that own The Future Sailors Tour DVD may recall Noel and Julian talking about the band's trip to Japan in the commentary track. Noel relates the story of two men showing up at a Robots gig dressed as Future Sailors during the curtain chat before the second half of the show. One of those sailors wasn't just anyone, it was pop star Hideki Kaji who was DJing the same night.
Influenced by Swedish pop, Hideki collaborates with many musicians from all over the world, has lived in London, and frequently records in Sweden. He is also a big fan of British Comedy; when asked to rank his five favorite things in this October 2008 for a TV show hosted by Rocketman (Ryou Fukawa), British Comedy was ranked number four and he recommends The Mighty Boosh. Some readers may be familiar with his song "Amai Koibito" (Sweet Lover) from the Detroit Metal City film soundtrack.
The 2009 Shita Come Comedy Festival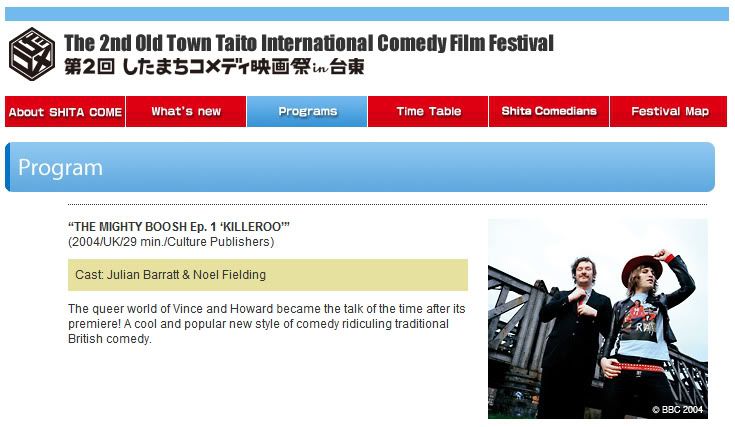 In September of 2009, Killeroo screened as part of the The 2nd Old Town Taito International Comedy Film Festival. Shortened to Shita Come in Japanese (from "Shitamachi" which refers to the downtown sections of Edo (now Tokyo) and "Come" from "Comedy"), Shita Come is Japan's first full-scale international film festival specializing solely in comedy, and is held in Asakusa and Ueno in Tokyo. Killeroo was shown in conjunction with a celebration of Monty Python's 40th Anniversary, which also screened an episode of Faulty Towers and Little Britain. The English page for this night of programing is available here.

A Punkish Comedy Drama Born In England Appears On Japanese TV!
Nonsense style action and rapid fire gags.
Surreal, stylish visuals.
Psychedelic, cool music. (From Fuji TV Next)
The Mighty Boosh made its Japanese television debut in January of 2010 on Fuji TV Next, one of Fuji TV's digital satellite channels. Unfortunately Fuji TV Next is a new network, and does not have as many subscribers as a channel like WOWOW. However, the Boosh received most likely the earliest broadcast time it's ever had, which as of this writing continues to be 6:30pm Tuesday through Thursday. With the DVDs now being released, Japanese fans who have been importing the show can finally find an easier way to introduce their friends to the world of The Mighty Boosh.
Omake – Extras
♦ Lucky Break (in which Julian plays a prison drama teacher) and Plunkett & Macleane (with a brief appearance by Noel as a brothel gent) were also released on DVD in Japan.
♦ The Ralfe Band's song Women of Japan appears on the 2007 collection Nu Folk, which was first released by the French label Wagram Records and is released by Rambling Records in Japan.