The Velvet Onion is proud to bring you its own 2011 calendar!
In lieu of an official Boosh calendar on sale this year, we decided it'd be a great idea to offer up an alternative to that rubbish one your nan got you, and make a fully fledged 12-month calendar for you to download, print off and stick on your wall.
As such, we've recruited some of the greatest names in Booshdom, alongside some truly wonderful photographers, and their kind contributions and a lot of hard work have culminated in what we're hoping is one of our proudest achievements.  We've even left you a little space to write down your own notes & birthdays… no stone has been left unturned!
We would like to thank ALL of the artists we feature in front of and behind the camera, and anyone else who has helped make this happen.  These people had to put up with our editor in chief hounding them for photographs until they relented and blessed us with some beautiful imagery to present to you.  So, in alphabetical order rather than order of preference, please love and worship the following:
Paulyne Antoniou, Julian Barratt, Matt Berry, Dave Brown, Zöé Caldwell, Angel Ceballos, Dan Clark, James Cook, Chris Corner, Jimmy Crippen, Sue Denim, Antony Elvin, Suzy Evelyn-Hall, Andrea Fröhner, Rich Fulcher, Andy Hollingworth, Colin Hoult, Kerie Leisch, Alice Lowe, David McNeill, Ben Meadows, Kim Noble, Steve Oram, Dee Plume, Holly-Jane Shears, Gareth Tunley, Sam Ward and Tiger Aspect Television.
Please please let us know what you think of the calendar.  If you print it out and stick it up – why not take a photo of it and send it our way via the forum, a comment below, facebook, twitter, you name it.  If there's enough interest, we'll try again next year!
Happy new year to all of our peelers – we'll see you in 2012. Stay peeled.
To download the entire calendar as png image files in one zip folder, CLICK HERE.
Alternatively, to download each page as individual jpeg files – read on…
Click on each image to download the full size versions.
FRONT COVER
Calendar design & production by Paul Holmes.  Photographer & artist credits listed below & on images.
JANUARY
ROBOTS IN DISGUISE – courtesy of Angel Ceballos, Dee Plume & Sue Denim

FEBRUARY
ZIMBANI – courtesy of Sam Ward, Colin Hoult & David McNeill with Tiger Aspect Television

MARCH
MATT BERRY – courtesy of Ben Meadows & Matt Berry

APRIL
KIM NOBLE – courtesy of Kim Noble.

MAY
JAMES COOK – courtesy of Andrea Fröhner, Chris Corner & James Cook, with Paulyne Antoniou.

JUNE
THE MIGHTY BOOSH – courtesy of Dave Brown & Julian Barratt.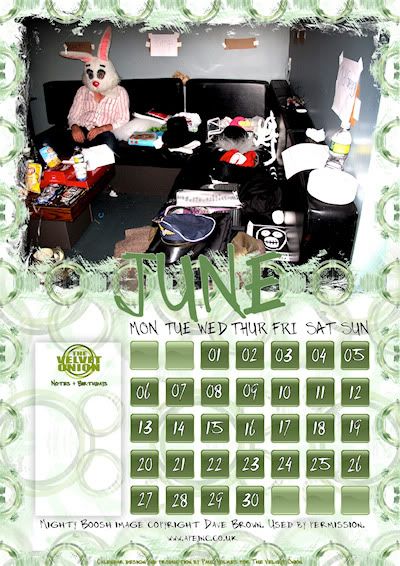 JULY
DAN CLARK – courtesy of Ben Meadows & Dan Clark.

AUGUST
STEVE ORAM – courtesy of Gareth Tunley & Steve Oram.

SEPTEMBER
DEADDOGINBLACKBAG – courtesy of Angel Ceballos, Holly-Jane Shears & Suzi Evelyn.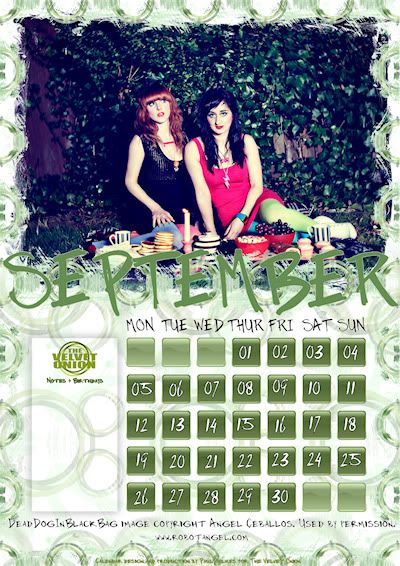 OCTOBER
DAVE BROWN – courtesy of Andy Hollingworth & Dave Brown.

NOVEMBER
HOT BREW – courtesy of Jimmy Crippen, Antony Elvin & Alice Lowe.

DECEMBER
RICH FULCHER – courtesy of Ben Meadows, Rich Fulcher & Zoe Caldwell.

Editors Note: Our original uploads did not credit Chris Corner as the photographer of our James Cook image on the May calendar. This has now been corrected.  Our apologies to Chris & James for this error!